Diet
For a better & happy life one should practice the regular intake of Well Balanced Healthy Diet.
What comprises a Well Balanced Healthy Diet?
It means the intake of food from all the Natural resources (Cereals, Pulses, Nuts, Fruits, Vegetables, Water, Milk & Milk products…) in a right proportion (which yields Carbohydrates, Proteins, Fat, Vitamins, Minerals…) required for providing Energy, Body Building & Protecting Cells & Tissues along with the maintenance of the functions of Heart, Brain & Lungs.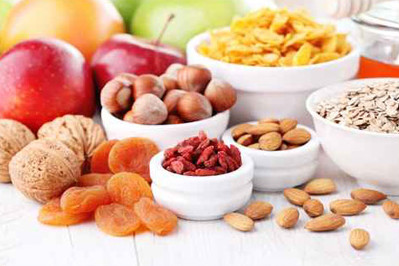 The Impact of having a Well Balanced Healthy Diet
Ensures optimal Macro-Nutrient intake (Carbohydrate, Proteins & fat).
Keep up with the total Micro-Nutrient (Vitamins & Minerals).
Boost up Immunity.
Improves Mood.
Facilitates Hydration.
Combat Diseases.
Promotes Longevity.
Induces Sound Sleep.
Removal of toxins from the body.
Improves our Quality of Life.