Our Healing system
Naturopathy & Therapeutic yoga
Naturopathy is an art and science of healthy Living. It strongly believes that body has its own capacity to prevent from diseases and regain its health if unhealthy. Nature cure treats body as a whole than specific condition.
Principles of Naturopathy
The principle of Naturopathy works on the Panchabhautic Theory (Air, water, Fire, Earth, Ether). It Emphasizes on prevention and self Healing process through Nature cure Treatments.
First do no harm
The healing power of nature.
Discover and treat the cause of the disease and not just the effect.
Treat the whole person.
The physician is a teacher.
Prevention is the best cure.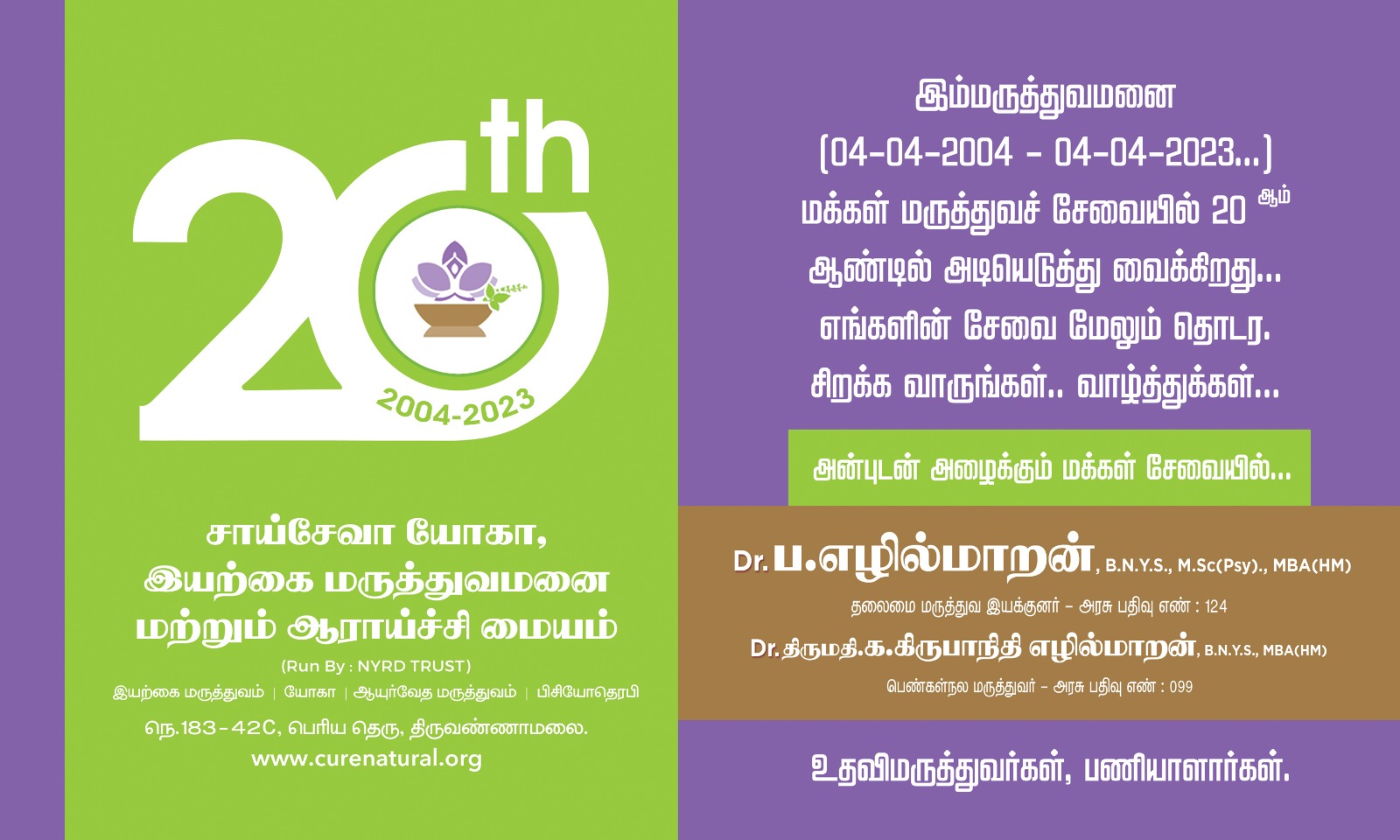 Our concern
Sai Seva Yoga Nature cure Hospital & Research Centre has been constructed in the year 2006 and it started serving Humanity since 2006, in the heart of the temple town – Thiruvanamalai; both as preventive & curative.
Naturopathy being a drugless system of medicine became our powerful weapon to achieves our goal, mission and values.
Objectives
Provision of medical Health care with Naturopathy & Yoga along with the other traditional system of medicine.
Providing free treatment for the patients who are really in need of medical care.
To reach every nook & corner of the society with this drugless system of medicine.
Conducting free camps to bring awareness about the system.
To construct a 100 bedded Naturopathy hospital   along with a medical college.
To  start a Foundation for Medical Research
Creating a herbal garden for the preparation of herbal medicine.
Values
Quality Excellence
Uphold Innovation
Compassionate Care
Honest & Trustworthy service
Sharing vision & Success
Vision
To establish a Health Promoting  & Disease Preventing Nat-Care system, that reflects the Laws of Nature;  to Empower  People  with a healthy way of life style in the grounds of cultural, social & Economical Interest, to render  free service to the needy  and to be an outstanding institution in the field of Research.
Mile Stones
In short, we had set up a unique institution for the "Health Lovers" to enjoy all the scientific system of Traditional Medicine –Nature cure, Yoga, Ayurveda, Physiotherapy under one roof "SYNCH". We use all the modern diagnostic method for reference.
<! ========= Cool Timeline Free 1.3.2 =========>
Saiseva Yoga Nature Cure
2018
Thoraco
Cardiac Rehabilitation
Post Operative Rehabilitation
Post Physiotherapy
2017
Research Department
Project Cell
Specialized Neuro Rehabilitation Unit
2012
Upgraded from 20 bedded to 30 bedded IPD
Specialized department of physiotherapy
Specialized department of Ayurveda
2011
Spine Joint care unit
Free care for needy
Fertility center
2010
Rehabilitation center
Admin and accounting dept
2007
Diet Consulting
Peripheral center
Free screening camps
2006
NYRD - Naturopathy, Yoga, Research, Development Trust
OPD
IPD
Free Indoor Camps
2004
Consultation
Yoga
Free outdoor camps